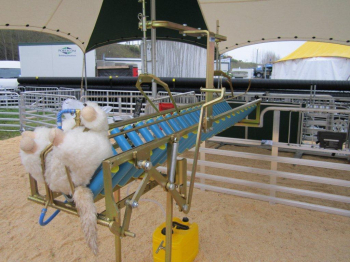 Prattley have worked in association with VetMarker to develop a gate that cradles the VetMarker Docking chutes.
The gates unique design means the chute sits at an ideal height for handling lambs. The center height is lowered to reduce the distance that a user needs to lift the lambs in to the VetMarker, while still keeping the rest of the gate at a height that lambs won't jump out.
The Vetmarker is a docking chute that puts lambs on their feet when they are released, causing them less stress and less hassle for Farmers. Lambs are loaded into the Vetmarker where ear marking, vaccinating, castration, drenching, and scabine vaccination can be done with ease from either side of the machine.
For more information on the VetMarker chutes contact Gillian Femenor at VetMarker www.vetmarker.co.nz or phone 0800 DOCKER (362 537)