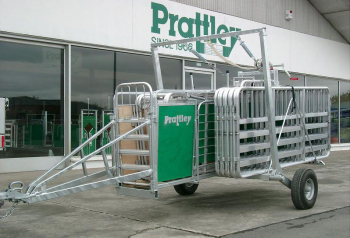 Safe on farm Animal Handling
The issue of safe and humane animal handling practice is paramount in the current farming climate, along with the ability to trace the animals from the farm to the plate.
To maintain safe animal handling practices the correct equipment must be used, it must be strong enough and of a size to accommodate the livestock and not compromise stock safety and welfare.
The solution to this lies in creating a low stress environment for animals, while retaining high throughput, productivity and low labour costs on farms. Prattley addresses this by producing lightweight, safe, versatile Animal Management Systems for a total management solution.
An understanding of animal behavior is central to successfully handling animals. Safety procedures depend on a number of factors for example, animal age, sex, breed, temperament, weight and previous handling records. Certain actions and reactions by stock are very predictable and can be used to the farmer's advantage. This understanding has been incorporated by Prattleys to take the guesswork out of farming.
The commitment to provide safe, animal friendly equipment can be seen in Prattley's Research and Development into manufacturing products to suit the animal's needs and safety and offering a complete solution for on farm handling management.
Safe on farm management begins with a successful yard system. The ability to move mobile yards and incorporate these with existing fence lines anywhere on farm, while utilizing surrounding environmental factors such as land layout, sunlight and wind direction, encourages a natural smooth stock flow to stop animals balking. Avoiding sharp blind corners and including well positioned gates further assists livestock flow. Ultimately the stock are at home in their own environment.
Moving the Mobile Yard system to stock on the farm cuts out herding and driving time of animals to permanent yards, this eliminates stress and fatigue and the risk of infection from dusty or muddy tracks. Which in turn reduces mustering time and labour costs. Relocatable yarding means less time off feed and more time in the paddock putting on condition.
The stock remains cleaner because of low mob movement keeping animals hygienic for shipping off farm and processing. It is crucial to maintain a low stress environment prior to processing as high anxiety results in a finished product that is tough in texture.
As well as safety for the animal, the Handling equipment must also ensure the safety of those people managing the animals. The animal handlers must be educated in animal behavior, especially cattle temperaments. Do not underestimate the speed or accuracy of a rogue animal. Yards should have personnel access gates particularly around forcing pens and working areas. Sheep Handlers and Weigh Equipment, Cattle Managers and Headbails should all restrain livestock safely against harm to the user, while still restraining the animal in a safe and humane manner.
(Prattley) Auto Draft and Weigh systems are designed to integrate with a recording database to enable full traceability from the pasture to the plate. The Autodraft system uses a handheld remote to open the entry gate of the weigh crate. The animal weight is quickly taken and transmitted to an electronic data recorder, an exit gate then opens automatically to draft the animal one of 3 or 5 ways depending on pre selected criteria for optimal weight. When electronic identification equipment is fitted, data will then be allocated to the specific ear tag weighed which then links directly to a PC for accurate records and immediate weight gain information.
The benefits of a computerized database are far reaching. Firstly this means that current demand for total traceability of a food source can be achieved ensuring food safety to the general consumer population. Recording identification for all animal movements can then be transferred to a national database to assist in reducing the risk of large scale disease outbreaks.
Data can be stored for the life of an animal and its breeding parents showing high production animals on farm, while also highlighting genetic issues. Through the accurate recording and processing of data, decisions can be made regarding breeding, culling, agricultural impacts on the land and feed strategies to gain maximum yield. It is crucial to farm productivity to have the optimum weight when sending animals for processing to return maximum profit. Traceability of food producing animals is an essential element of ensuring food safety and public health.
Safety of stock and rural workers is paramount in farming and with the use of dedicated equipment to suit the animals needs this can be obtained. Prattley promote this through their range of safe and practical products, technical support and customer service to give a complete animal management solution, giving farmers a competitive advantage.