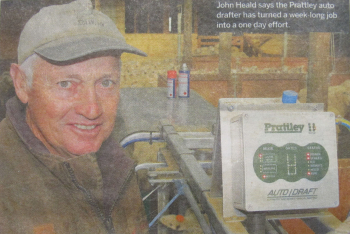 A new Auto drafting machine is making huge savings in time and money on a large-scale sheep and beef farm, near Dannevirke, in the Tararua district.
John Heald manages Pohuetai farms, running 9500 Highlander ewes - they go to either a Highlander or Primera ram - or about 300 breeding cows on the 2000ha property.
While the farm produces 15000 lambs for sale to Silver Fern Farms, an important part of the operation is the 'elite' flock, which produces breeding rams.
Heald has farmed in the area all his life and is a great believer in the value of technology to improve farm efficiency and profitability.
On Pohuetai he has had the support of its owner, the Knight family, to invest in technology and this includes the latest Prattley Auto Drafter for sheep.
But it starts long before the drafter. All the lambs from this elite flock have EID tags put on them when they are docked. Heald says, at the same time as the tails are cut off, a tissue or blood sample from each lamb is taken, barcoded and recorded
The DNA is then analysed at the laboratory, which determines the dam and sire of each lamb.
"All that information is going on to SIL and can be used in the ram sorting process. For Instance when we do our mating sort, the geneticist will have an idea of what traits they want to concentrate on" he explains.
"For example, it could be a higher weaning weight or some other trait then a match can be done. This data is uploaded to the Prattley AutoDraft and the job is done".
Pohuetai has had the New Prattley Auto Drafter since late last year - just in time for weaning. Heald says the drafter has saved one labour unit during weighing and has also led to other efficiencies and greater accuracy with drafting.
With the new system in place, up to 650 sheep can be put through the drafter in an hour - compared to 450 under the older model.
"The big thing for us is the accuracy in the weighing. If we are doing a sort for the Highlander elite mating programme for Instance, we can load the XR up with the information and right files, programme it and the machine will then draft five different ways with 100% accuracy"
"Thats based on data because all of those ewes have got electronic tags in their ear, that acts as a transponder and pulls up a 15 digit number which puts the animal in one of these five drafting gates" he adds.
Heald says "before the advent of this technology, it could take a week to sort 1200 ewes for mating, but with this new Prattley System, the same job can be done in a day".
- As published in the Rural News 21 May 2013