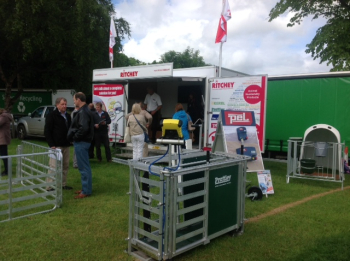 Royal Highland Show, Scotland
Attended by Graeme Ward and Ritcheys
The Royal show reviewed by Ritcheys...
Ritchey™ had a strong showing during The Royal Highland Show- 20th – 23rd June 2013 at the Royal Highland Centre, Ingliston. We found ourselves in fine company with the likes of HRH The Princess Royal and Judy (Andy's Mum) Murray in attendance.
The show had a phenomenal attendance of over 170,000 during the course of the four days, boosted by the lovely weather. The Ritchey™ stand looked resplendent and the guys were kept very busy fielding questions regarding our current range, in particular there seemed to be quite alot of interest in the benefits of using EID Tags for stock management purposes.
We also had our own very special guest in the form of Graeme Ward owner of Prattley who had kindly made the trip over from New Zealand to offer support for the show. Graeme happily chatted to farmers and traders who were interested in the fantastic time and money saving potential of using the Complete Stock Management Solution of Prattley Animal Management Systems, Tru-test Electronic Weighing and EID Tags from Ritchey™.
The organization at the Royal Highland Show was as ever excellent, it was a fantastic opportunity to gain insight from our customers and we look forward to being a part of future shows.